I am seriously on the hunt for easy, summer recipes and ideas. I totally despise cooking full fledged heavy meals in the hot summer months. In fact, I'm thinking about lobbying Congress to make it illegal!! :-) How many of you wives and mothers are with me?

Turkey and Swiss Stuffed Pita Pockets

Whatcha Gonna Be Needin':
6 Pita Pockets, whole
6 slices swiss cheese
1 12 oz. package of turkey lunch meat, chopped
1/2 tub sliced white mushrooms
1/2 stick butter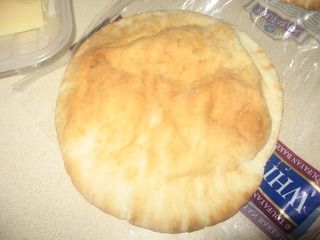 This is a pita pocket. Pita pockets are your friends in the stinkin' hot dog days of summer.
You need to take a knife and make a slice into the pocket of the pita and separate it like so.
You can stuff a lot of stuff in that big ol' thing! So one pocket is plenty per person.
Lay a piece of cheese in there.
Toss on some sliced fresh mushrooms.
Add a pat or two of thin butter.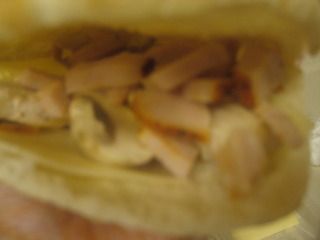 Top with chopped turkey breast.
Put them in a baking dish and cover it with foil. Bake at 350 for about 15 minutes or until the butter and cheese are all melted. Add ranch dressing or mayo to your finish product. Or maybe even salsa. Or lettuce and tomatoes ... or ... or ... or...
Now, here is where the choices are endless. You can make pizza pockets with pepperoni, olives, and mozzarella. You can do taco pockets with taco meat and cheddar cheese. You can do veggie pockets. Really, it's just quick, easy, and coooool.