This is a one pot wonder that I make on nights when I have zero to no time. It's comfort food from a can, if you will.
Whatcha Need:
Potatoes- peeled, chopped, boiled, and strained
1 Lg. can chicken noodle soup
1 Lg. can cream of chicken soup
2 C. milk
salt, pepper, and garlic powder
First, boil your chunked up potatoes until they are just a bit past fork tender. Don't let them go very far past fork tender or the starches will develop too much and you'll just have a pot of mash on your hands. These are tender enough that when I stir them they start to fall apart. I like that for a soup consistency.
Add in your large can of chicken noodle soup. I just use good ol' condensed Campbells. But, you can add in whatever special soup you like right here. Just use the large can.
Add in your shredded chicken and ignore the sharp nature of this photo. The lighting in my kitchen is HORRRRIBLE so I do what I must.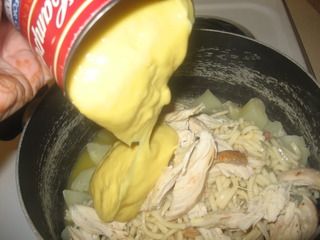 Now, add in your large can of cream of chicken soup and think about all the casseroles you've made in your day. Good stuff.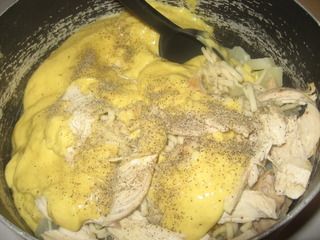 Salt and pepper and garlic powder that pot of comfort.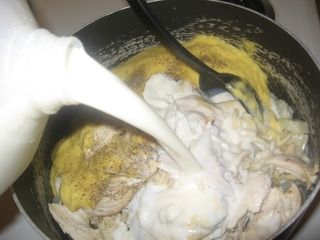 Now, start pouring milk and stirring. Stop pouring when the soup is the consistency that you like.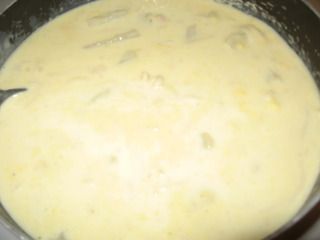 It's done! YUM! Now, you can eat as is or you can hook it up with some bacon bits, sour cream, or green onions. Gooood stuff, baby!